Matt Mullenweg
Matt Mullenweg was one of the original founders of WordPress, who forked the code from B2/cafelog, before founding Automattic and a variety of WordPress based and related businesses under that moniker.
Mullenweg originally posted an item entitled "The Blogging Software Dilemma" on January 24th 2003, to which Mike Little replied, about how the developer who ran B2/cafelog had "disappeared" alongside his wish to create something GPL…
From this little acorn, the mighty oak that is now WordPress (powers 30% of the web as of March 2018) would grow!
Longer Introduction
Matthew Charles "Matt" Mullenweg (January 11, 1984), is best known as the man who originated and (along with Mike Little) developed the Open Source software, WordPress, which is now owned and managed by the WordPress Foundation.
Mullenweg is founder and current (correct March, 2018) CEO of Auttomattic, the business which owns WordPress.com (hosted and managed WordPress), Jetpack, WordPress.com VIP, WooCommerce, VaultPress, Akismet, Longreads, Simplenote, Polldaddy, Cloudup, Simperium, Gravatar. For more on Automattic, click here.
Education
According to interviews, Matt Mullenweg was born in Houston, Texas.
After attending the High School for the performing and Visual Arts in Houston, Texas (where he studied jazz saxophone), he went on to study Political Science at the University of Houston.
He did not complete his degree, however, instead taking a job at CNET Networks – in 2004, after having already set in motion the project which would become WordPress.
Working Life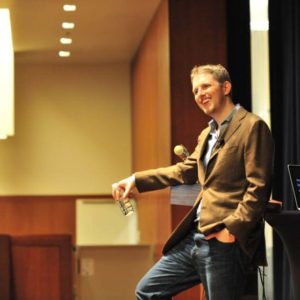 While still a student, aged 19, Mullenweg posted about "The Blogging Software Dilemma" on January 24th 2003, to which Mike Little replied. The pair would go on to fork b2 Cafelog codebase. The original b2 dev, Michel Valdrighi joined with their effort subsequently.
Mullenweg co-founded the Global Multimedia Protocols Group (GPMP) two months later – in March 2014 – along with Eric Meyer and Tantek Celik. GPMG are credited with creating the first microformats (which would later become so important for Search and consequently SEO).
A month later, along with WP developer Dougal Campbell, Mullenweg launched Ping-o-Matic, a service which would "ping" various aggregation services with notifications when blogs were updated.
In May 2004, the major blogging platform of the time, Moveable Type, increased its prices, and stopped free services, driving many many people towards the "free and open source" alternative on the market: WordPress.
This event, perhaps more than any other, probably lead to what would become WordPress'es utter dominance of the blogging marketplace, later the CMS sector, and now, the web itself.
In October 2004, Mullenweg began working for CNET after being recommended by an acquaintance. At this point he dropped out of college and moved to San Francisco from Texas.
In December 2004, Mullenweg announced the launch of an online forum sister product to WordPress, called bbPress.
WordPress version 1.5 was released in February 2005, and was downloaded over 900,000 times. This release brought in themes, comment moderation, as well as major overhauls for the way the software looked; particularly in the WordPress admin.
After just around 1 year working for CNET, in October 2005, Mullenweg left to focus on WordPress. A few days later, he launched Akismet.
In December 2005, Mullenweg launched Automattic, which would employ some early contributors to WordPress, including Ryan Boren and Donncha O Caoimh.
Automattic announced an early deal with Yahoo! Small Business web hosting.
After only a couple of months in business, at Automattic, Mullenweg recruited Yahoo! executive Toni Schneider to be CEO – at the time, the 5th employee of the company.
In April 2007, Automattic raised around $1.1million from Polaris Ventures, True Ventures, Radar Partners, and CNET.
In January 2008, another funding round saw Automattic raise a further $29.5 million from Polaris Venture Partners, True Ventures, Radar Partners, and the New York Times Company. At this time, the business employed 18 people, and the funding round came as a result of repeated attempts to acquire WordPress by third parties.
Since launching Automattic, Mullenweg has been in charge of self proclaimed "angel investment and research company" Audrey Capital. Matt Bartus, Mo Carter, Rose Goldman, Matt Mullenweg, Scott Reilly, Samuel "Otto" Wood are listed as members / employees at Audrey Capital.
In July 2011, WordPress passed 50 million mark – more than 50 million sites powered by WordPress.
In January 2014 Mullenweg became CEO of Automattic. Toni Schneider stayed at Automattic, working on other projects.
In May 2014, Automattic closed another funding round, this time raising $160M, which gave the business a $1B valuation. At this time, WordPress was powering 22% of the top 10 million websites in the world.
In March 2018, WordPress passed the 30% of the top 10 million websites mark.
Personal Life
As a student of political science – and someone who's stated reason to fork b2 in the first place was "political", it is perhaps unsurprising that Mullenweg has pursued a variety of personal and philanthropic goals.
Some random facts include:
a Dvorak Keyboard user who can type over 120wpm.
on the board of Grist.org
founder/director of the WordPress Foundation
the only non-company high level sponsor of the Apache Software Foundation.
Charities Mullenweg Supports
Matt Mullenweg lists the following charitable causes on his personal website as some of those which he actively supports:
Archive.org,
Alaska Wilderness League,
Apache Foundation,
Bay Lights,
charity: water,
Electronic Frontier Foundation,
Grist (board),
Innocence Project,
Long Now Foundation,
Rothko Chapel,
Samasource,
US-Ireland Alliance.
Blogging career
As the founder of the world's most popular CMS, which started out as a blog, it is worth concluding with a look at Matt Mullenweg's blog: Ma.tt "Matt Mullenweg | Unlucky in Cards". This blog runs on WordPress.
While not exactly prolific, Mullenweg is a consistent blogger, and tends to be quite forthright when it comes to decisions he has been involved with, for example in relation to the GPL, including a not-quite-clash with Facebook over the licencing used in React.
The GPL is important to Matt Mullenweg. This is an obvious fact.
In case you were wondering, it is with this post that WordPress was begun.
Word.
Posts about Matt Mullenweg